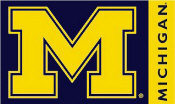 University of Michigan Basketball
For many years I have been archiving U of M Football Games on both audio and videotape, and have found that neither the University of Michigan or radio stations that carry the games kept much, if anything, of these broadcasts… but I have! It was also my pleasure to have produced the two albums (now on CD) featuring the greatest moments of Wolverine Football with the late Bob Ufer. Many past games are available to Michigan fans who wish to re-live the memories. Games are available on CD's (audio) or DVD (video). Prices are kept very reasonable just so that I can cover my expenses and costs of duplication.
This special service is not for profit or personal gain. Videos are being provided for private use and not for public display, re-sale or re-broadcast.
Video copies of games are only $18. All video orders are provided on DVD from the masters recordings. Thanks to search engines, like Google, quite a number of Michigan fans have been in touch seeking games from past years. Some are former players, alumni and others are just great U of M Football fans.
(Notes about a particular game are hi-lited in aqua)

From 2004 forward ALL games are archived on digital DVD's
[DVD]
already transferred from Beta Master Tapes to
DVD
Michigan Basketball Archives
Video
$15
1986
1989
Virginia
Seton Hall NCAA

[DVD]

Championship Game! (with TV post coverage too)
1991
1992
Duke
East Tennessee
Temple
Cincinnati
U-M Basketball

(Homecoming Coverage Ch. 7 Detroit)
1993
Coastal Carolina
UCLA
Kentucky

[DVD]

Temple
George Washington

[DVD]

Kentucky

(Final Four game 1)
1994
2012/2013 [all on DVD]
Arkansas
Michigan State
Ohio State
Illinois
Northwestern
Indiana
Penn state
South Dakota
VCU Virginia Commonwealth
Kansas
Florida
Syracuse

(Final Four)

Louisville

(Final Four)
The Battle in Seattle
In 1989 we had the pleasure of producing a special tribute to the NCAA Basketball Champions as Michigan beat Seton Hall. Proceeds went to the U of M Athletic Scholarship Fund. It's a sensational video. That project was completely financed by former Ann Arbor businessman Jeff Dorn, and produced at Whirlwind Studios in Dearborn by Brian C. Dombrowski. The video is from CBS Television with audio from WJR Radio. Superb play-by-play is by Larry Henry! Also included are highlights from the U of M vs. Illinois game prior to the final game of the Final Four versus the Seton Hall Pirates. Running time: 30 minutes. It is an incredible memory of Michigan's finest basketball season ever featuring the Famous Fab Five players! Only $15.00